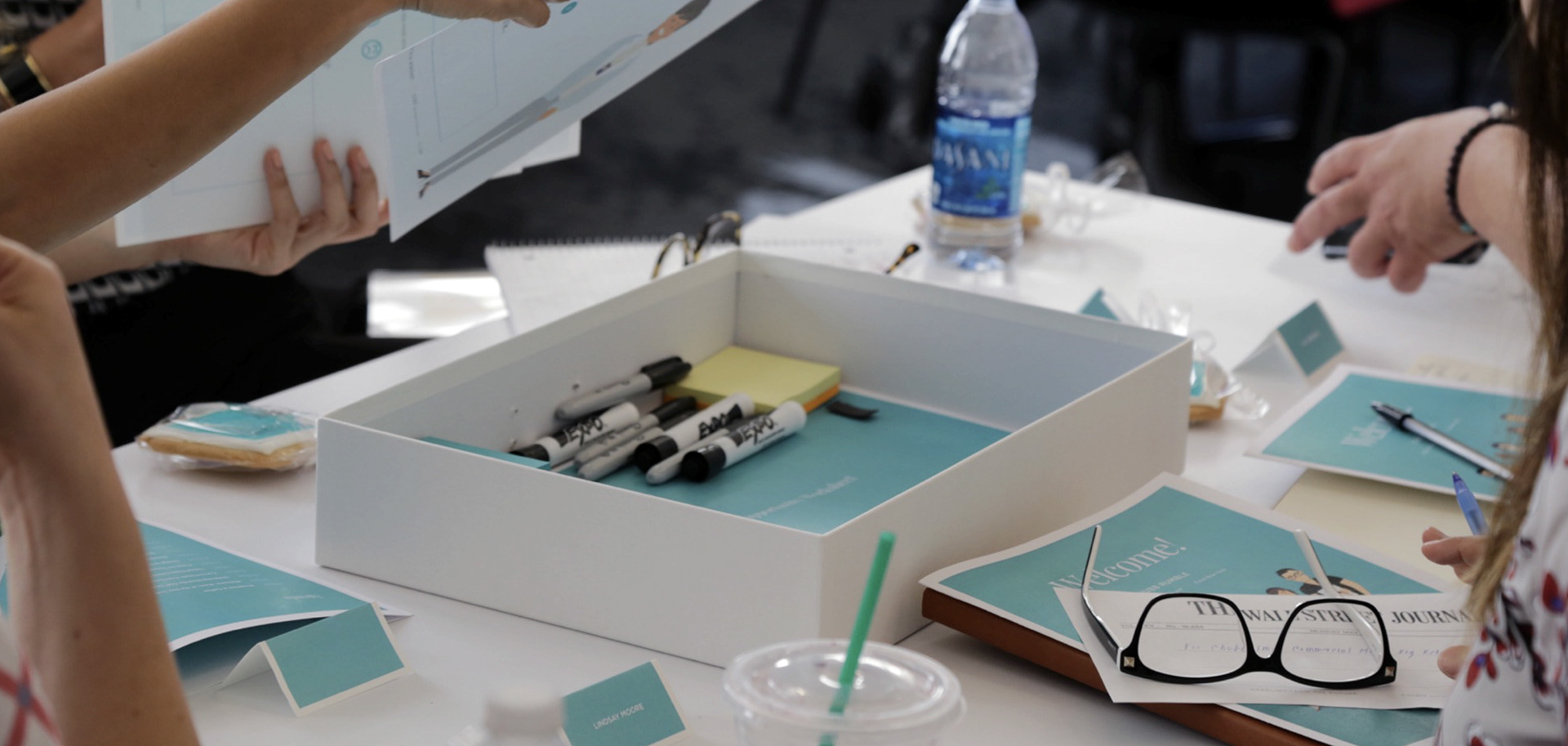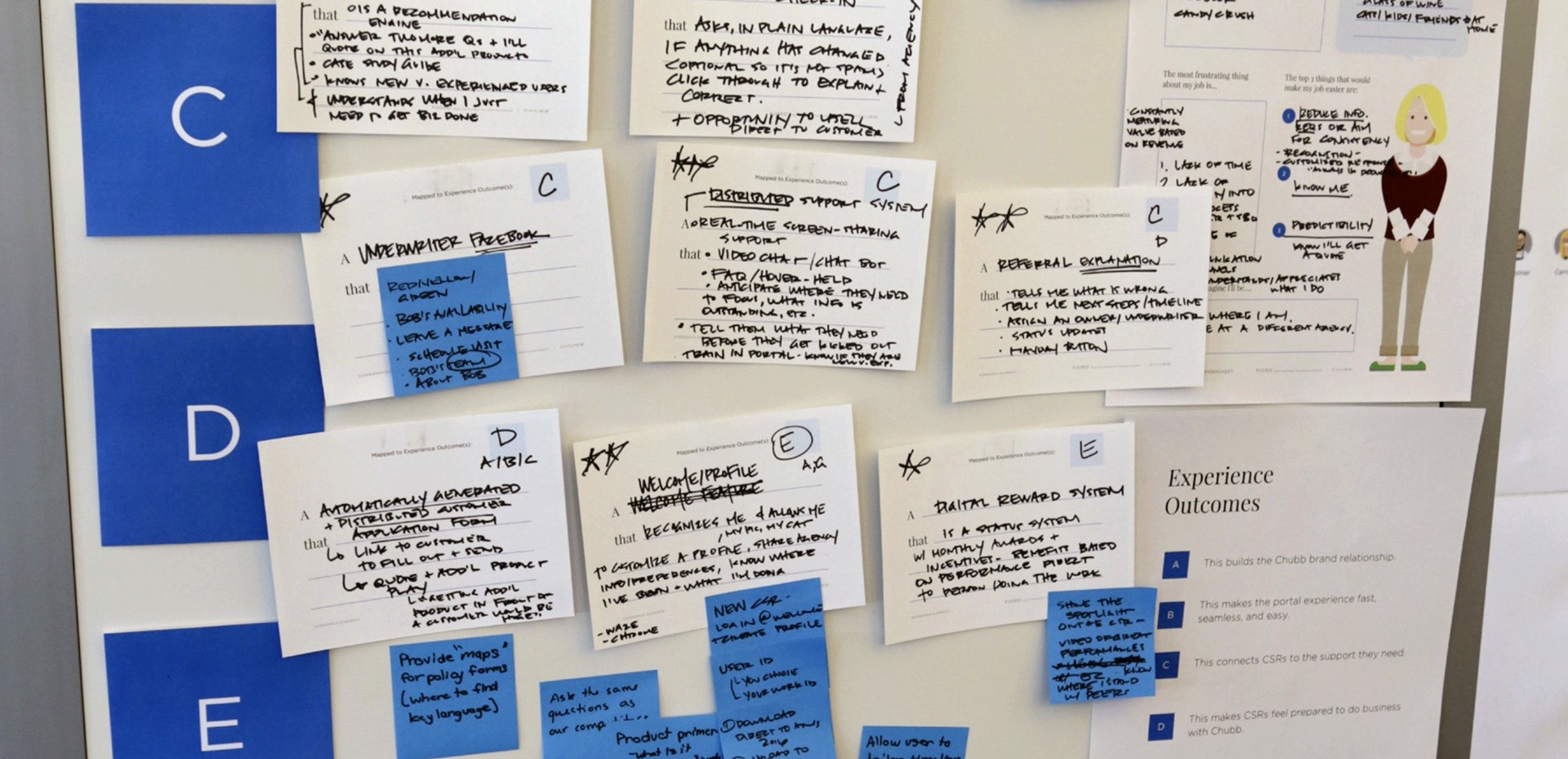 "How do we position Chubb Small Commercial Insurance as a true partner to the Customer Service Reps who execute policies every single day? If they don't like us, we don't get their business."
- Stakeholder Interview
Challenge:
Develop and deploy a transformational Small Commercial Insurance (SCI) sales platform - or Digital Marketplace - that builds brand affinity and increases market share.  Support it with promotional assets and an on-demand video training library.
Solution:  

Easy access to valuable tools and information, all in one place, equals less detective work up front.  Predictive and dynamic quoting flows ensure that Customer Service Representatives (CSRs) answer no more than the required number of questions each time they use it.  By automating endorsements, certificates, and renewals, CSRs are free to spend time directly engaging consumers.
In order to align on this roadmap for the future platform, an intensive, facilitated workshop was designed to bring together various disciplines and teams across Chubb to build consensus.   After fully inhabiting the current state CSR experience, participants envisioned future services and solutions that would truly differentiate Small Commercial Insurance - from the agency portal, to new methods of risk modeling and direct-to-consumer sales.
"We have an opportunity to do something totally different with what we're building here, and to be disruptive. The field's wide open."  
- Stakeholder Interview
Mapping the Current State CSR Journey Based on Field Research:  
Co-create sessions and prototype reviews were conducted with agency CSRs and underwriters based in ten states across all U.S. regions to define a best-in-class engagement with Chubb and its SCI digital marketplace.
Strategic Goals: 

Define the wants, needs and aspirations of target CSR users.  Assess the current state CSR work experience through creative in-person engagement.  Define opportunities for Chubb to support CSRs' personal and professional goals, now and in the future.  Establish design principles to live by for the SCI Portal.
​​​​​​​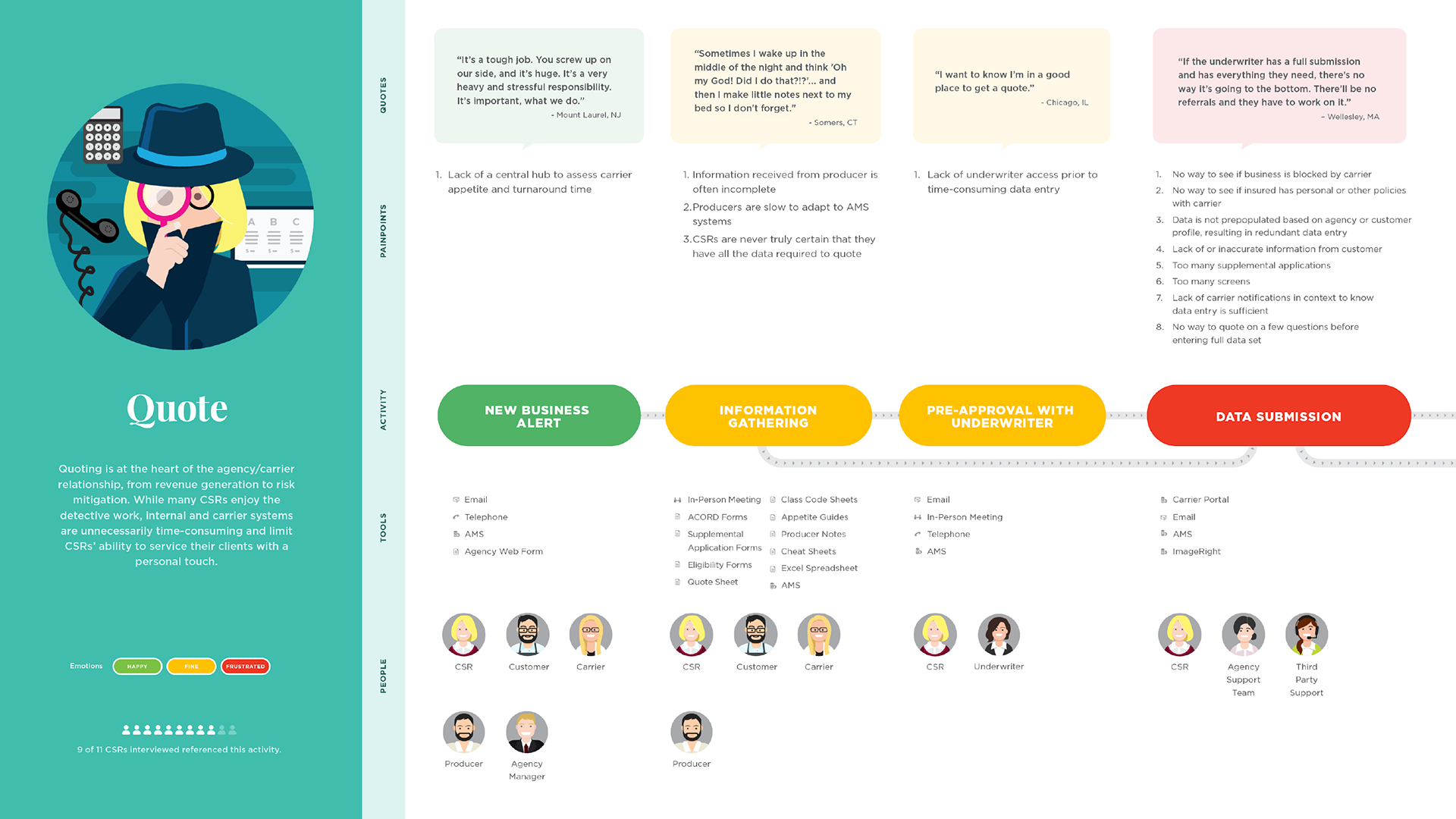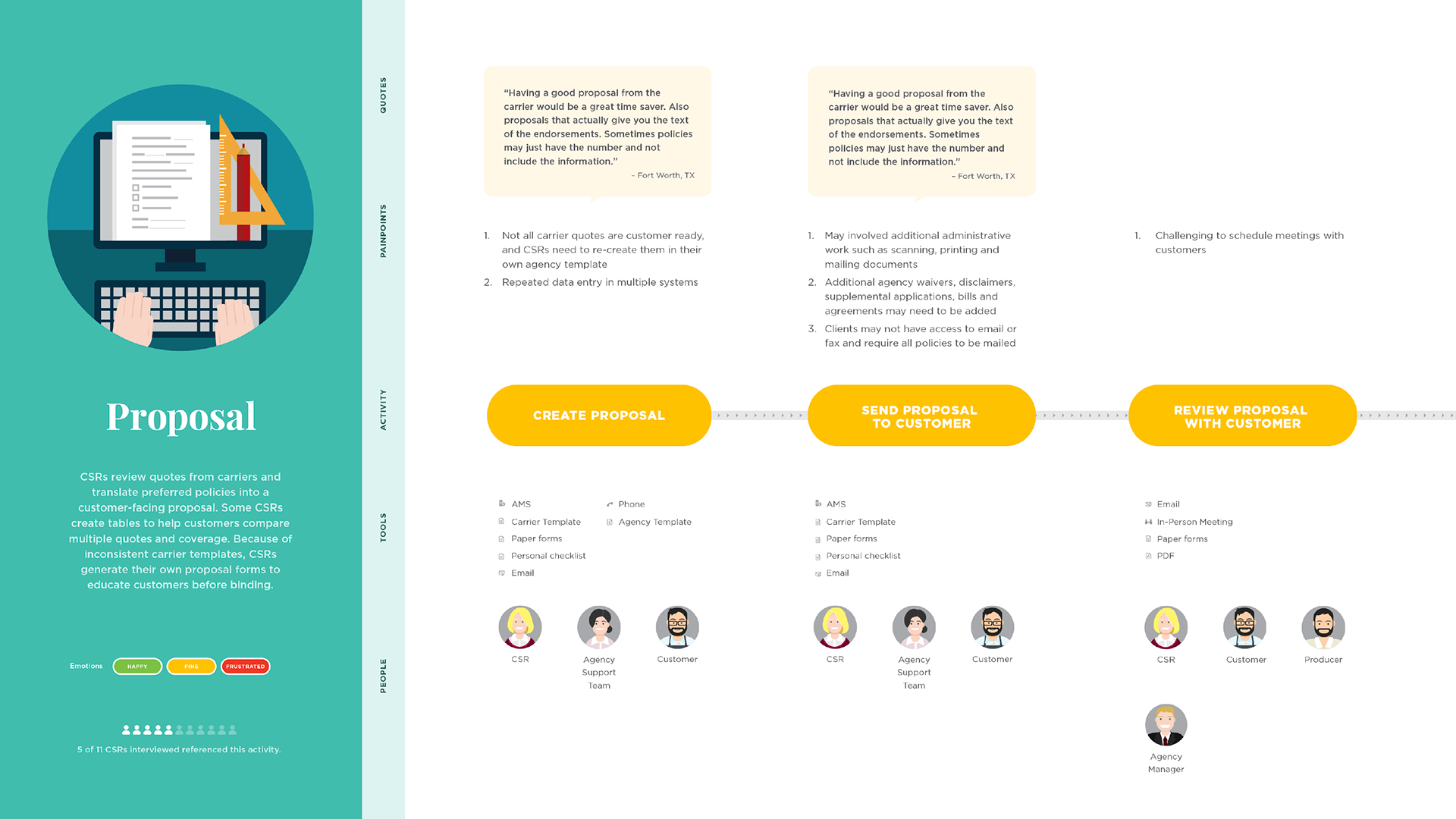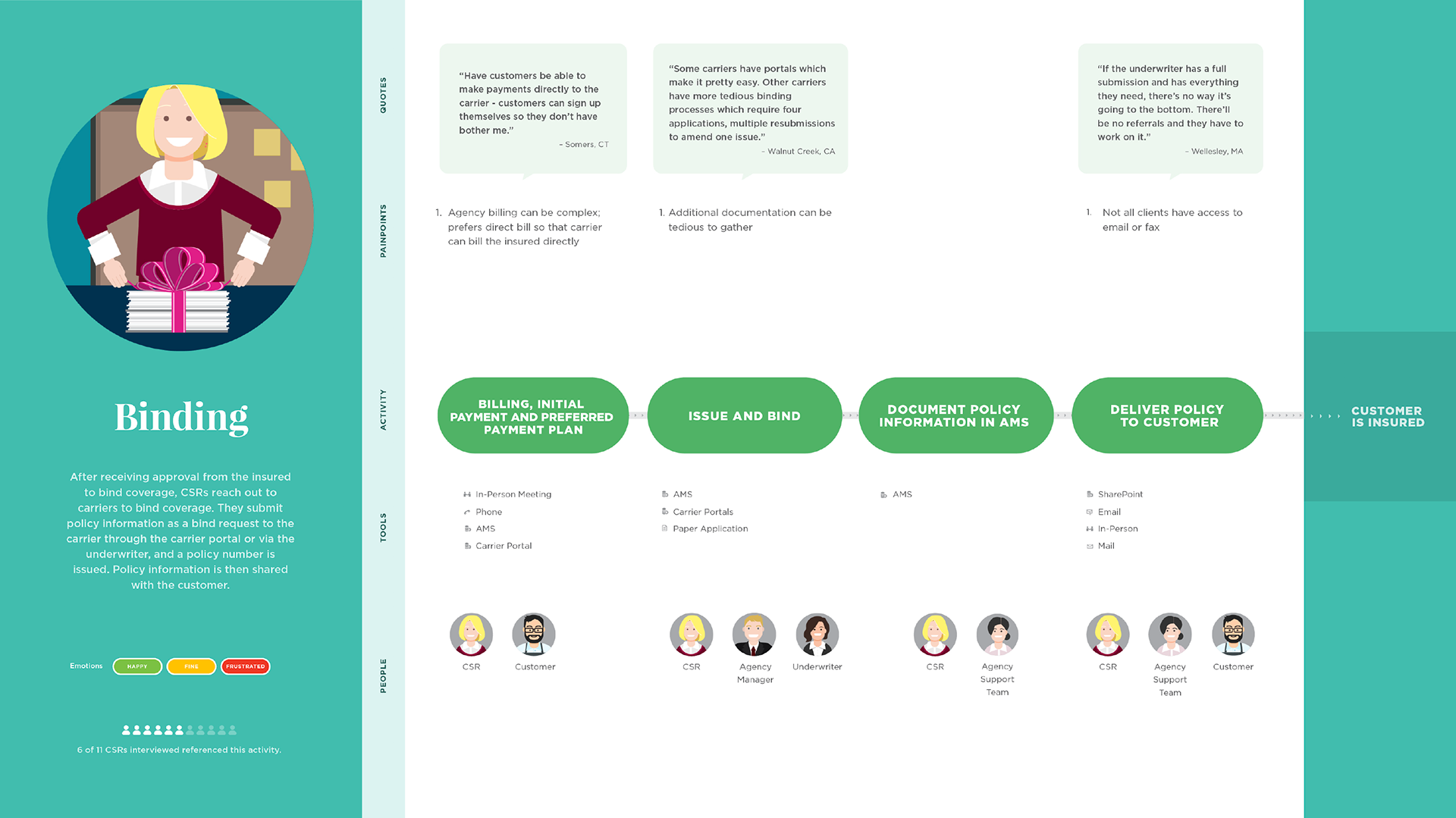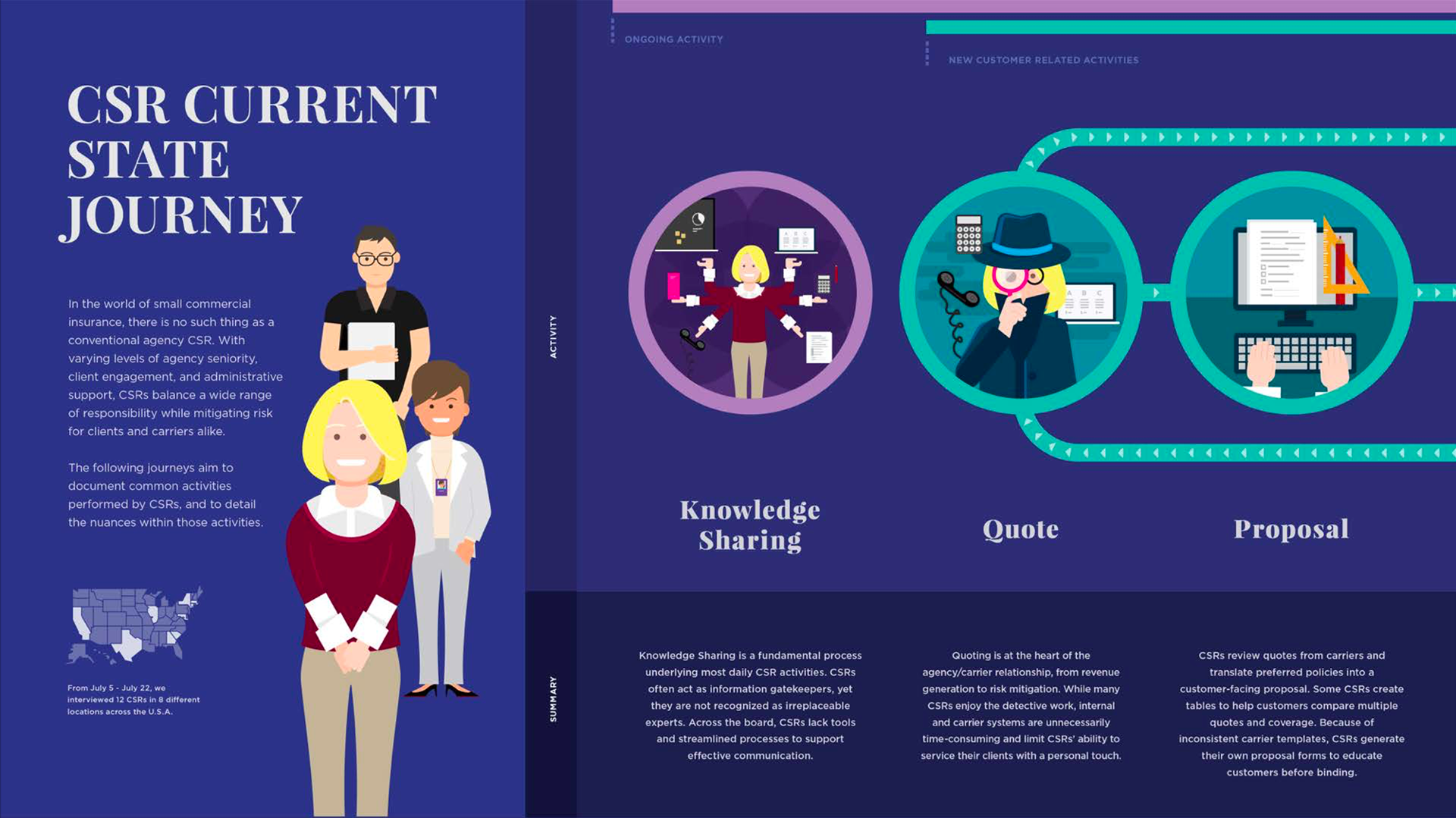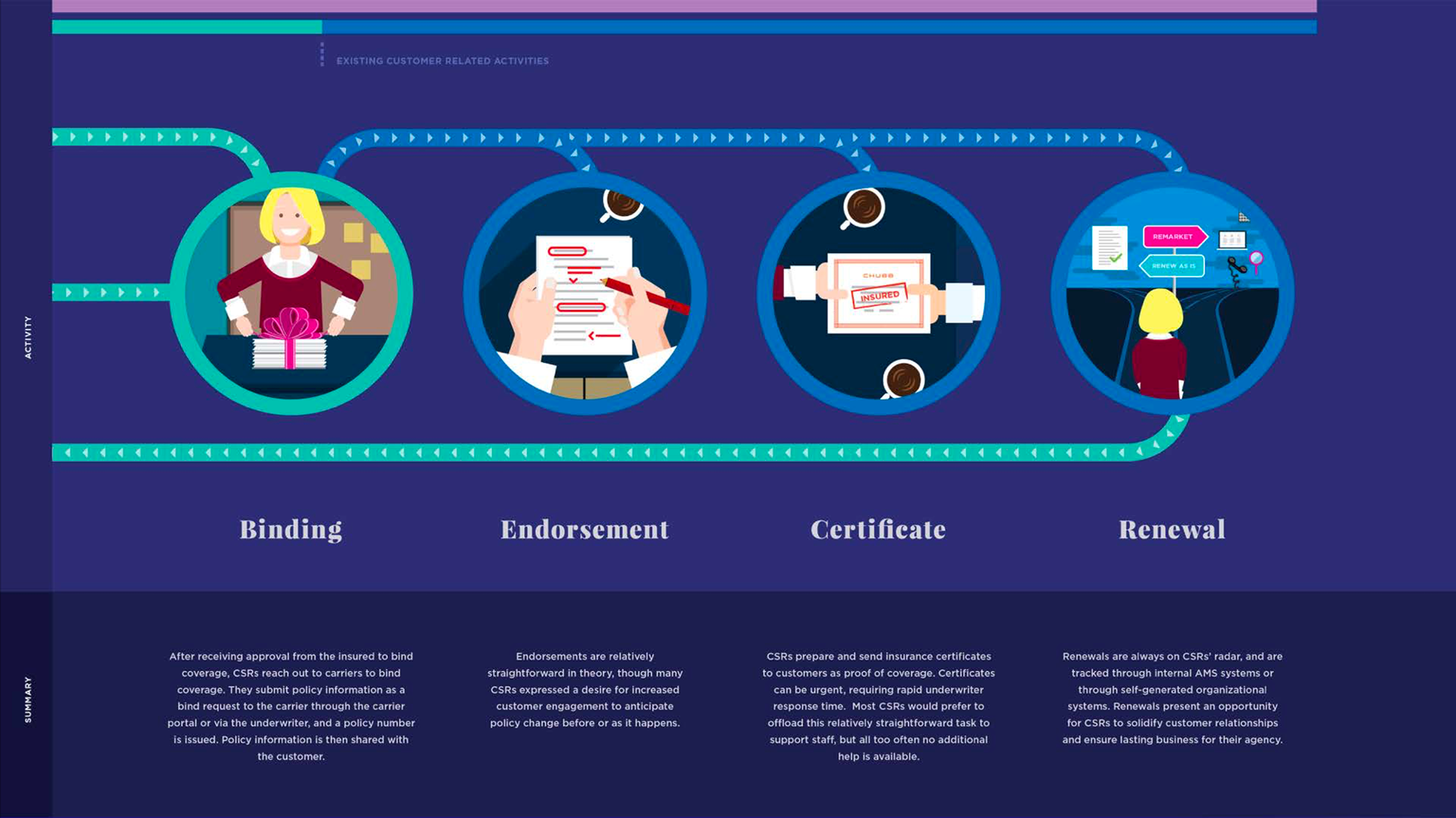 Core Insights: 
Examples included that trust between CSRs and underwriters was foundational and, though Chubb is highly regarded for product integrity and claims resolution, underwriter access was limited.  CSRs are also loyalists who reward carrier empathy with repeat business.  And, faced with outdated carrier portals and hundreds of customers to serve, they seek to create order out of chaos.
Our Guiding Design Principles:

User Archetypes Based on Field Research: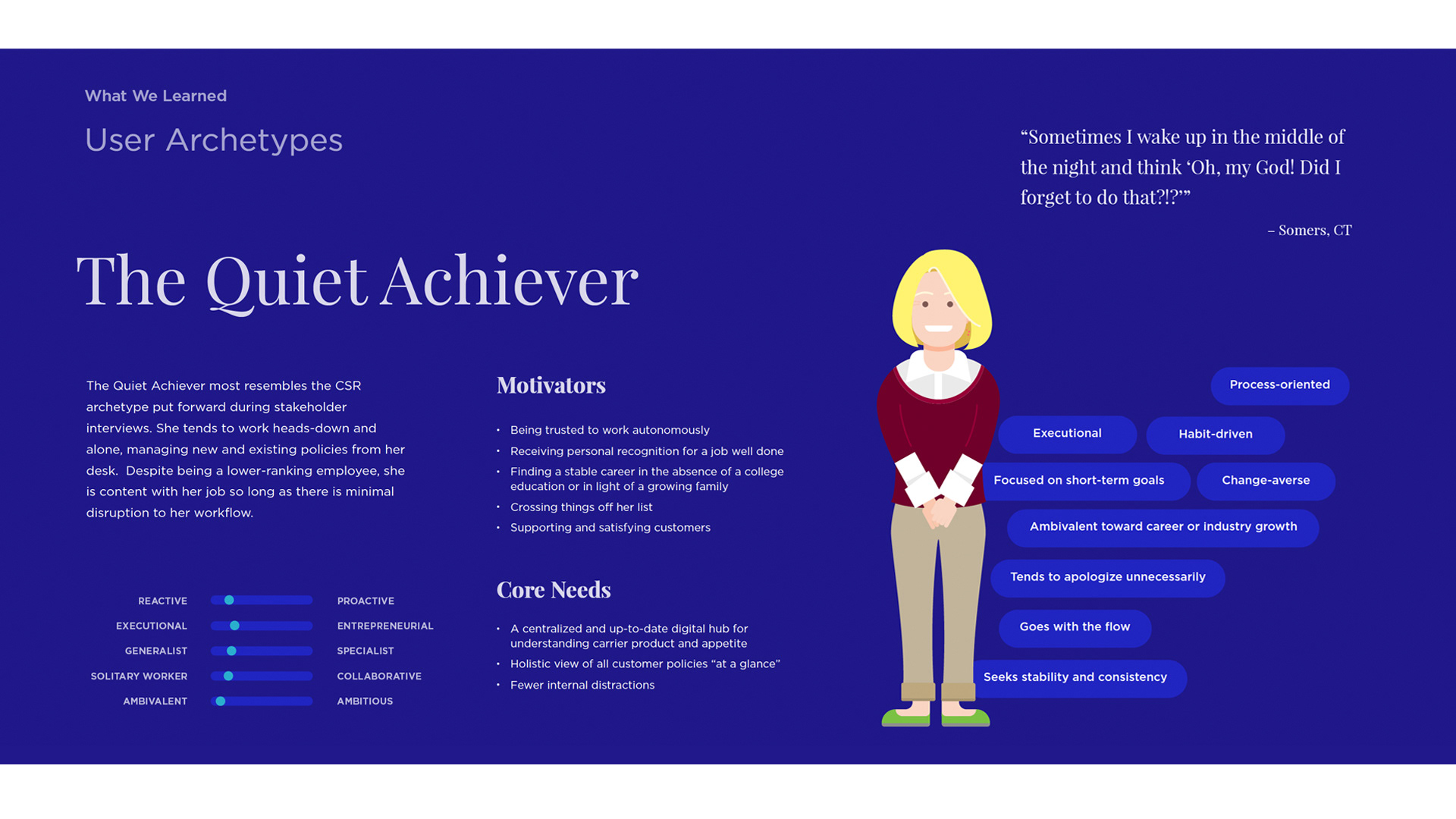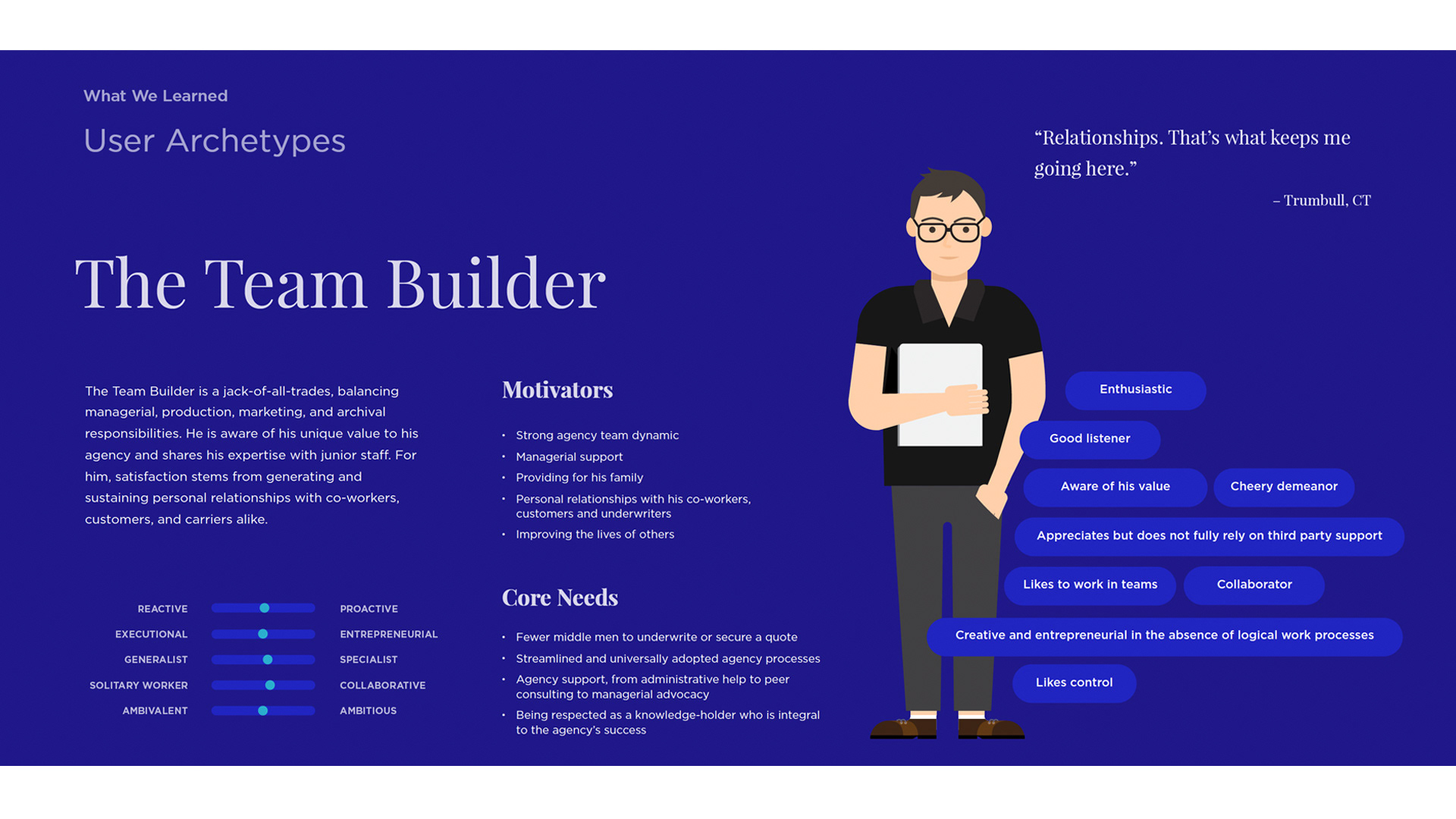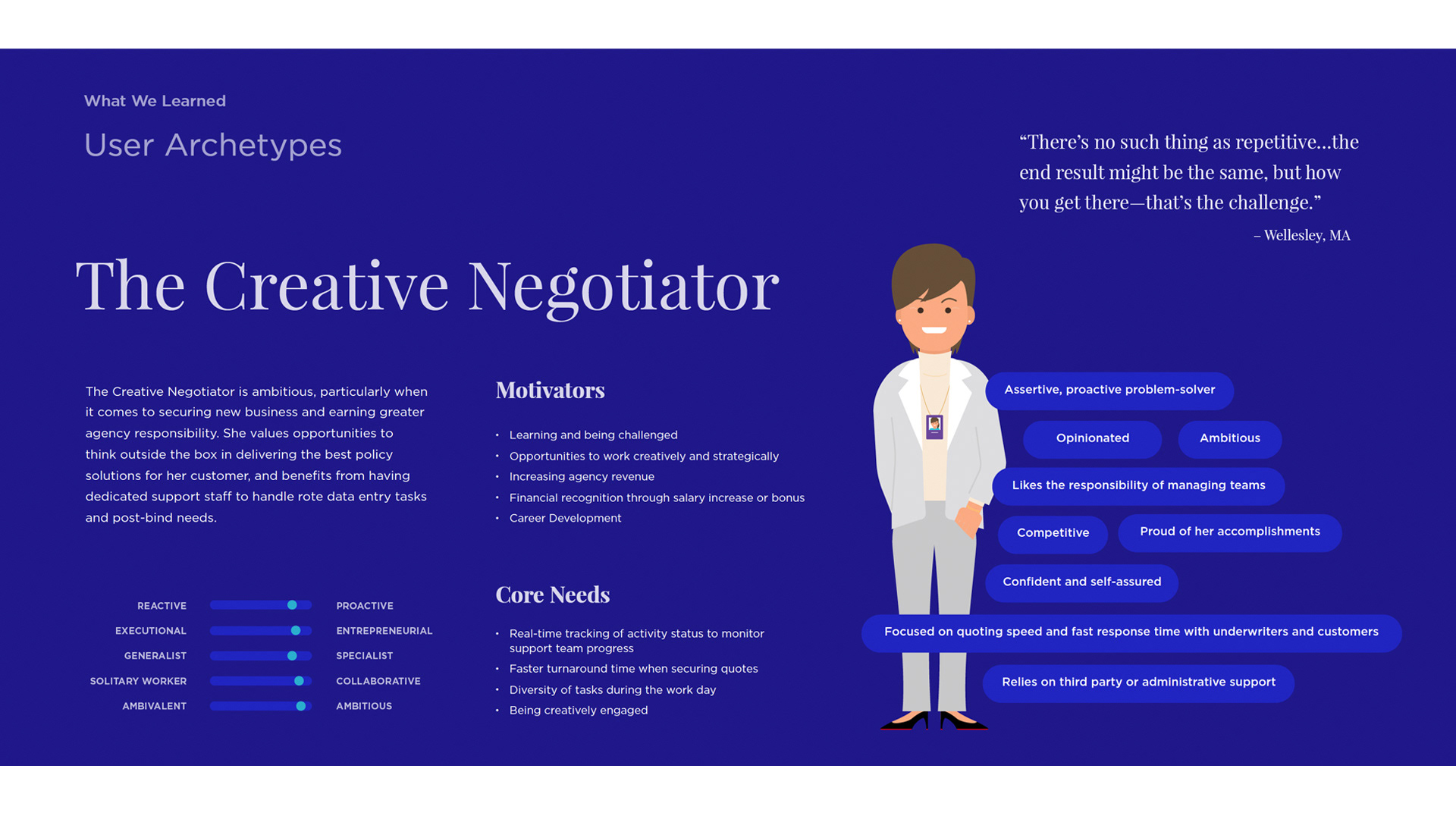 Examples of "Future State" Design Concepts Proposed:

 ​​​​​​​

1.  Producer App: 
An on-the-go mobile tool that allows producers to easily collect a potential customer's information during sales meetings, and immediately push that content to a CSR via the Chubb Portal and association management system. 
Key features

include the ability to capture basic business information, such as industry, location, years in business, number of employees, payroll, etc. - and, information entered can surface optional additional questions in anticipation of quoting flow. 

Pain points

addressed by the Producer App include incomplete data captured by producers in the field and lack of producer awareness on what information is required to quote new business.
2.  Predictive Profile:
A customizable profile that personalizes the Chubb experience for CSRs after an initial account set-up. CSRs can share their expertise, set agency preferences and coverage minimums, and opt in to Chubb Rewards.
Key features

include the ability to capture basic CSR profile information such as specialties and certification and save preferences for agency information and coverage minimums. 

Pain points

addressed include the lack of personalized recognition for CSRs and redundant data entry.
3.  Dashboard:
A customizable, one-stop-shop welcome experience that gives CSRs control over the complex business of Small Commercial Insurance. From the Dashboard, CSRs can access support, view alerts, redeem rewards, launch new quotes, and manage existing business.​​​​​​​
Key features

include CSR creation of a single user ID for all Chubb products and designation of account access to other CSRs with the user ID and an invite. 

Pain points

addressed transparency with products across Chubb portfolio and convoluted communication channels to access underwriters

The New Small Commercial Marketplace Dashboard: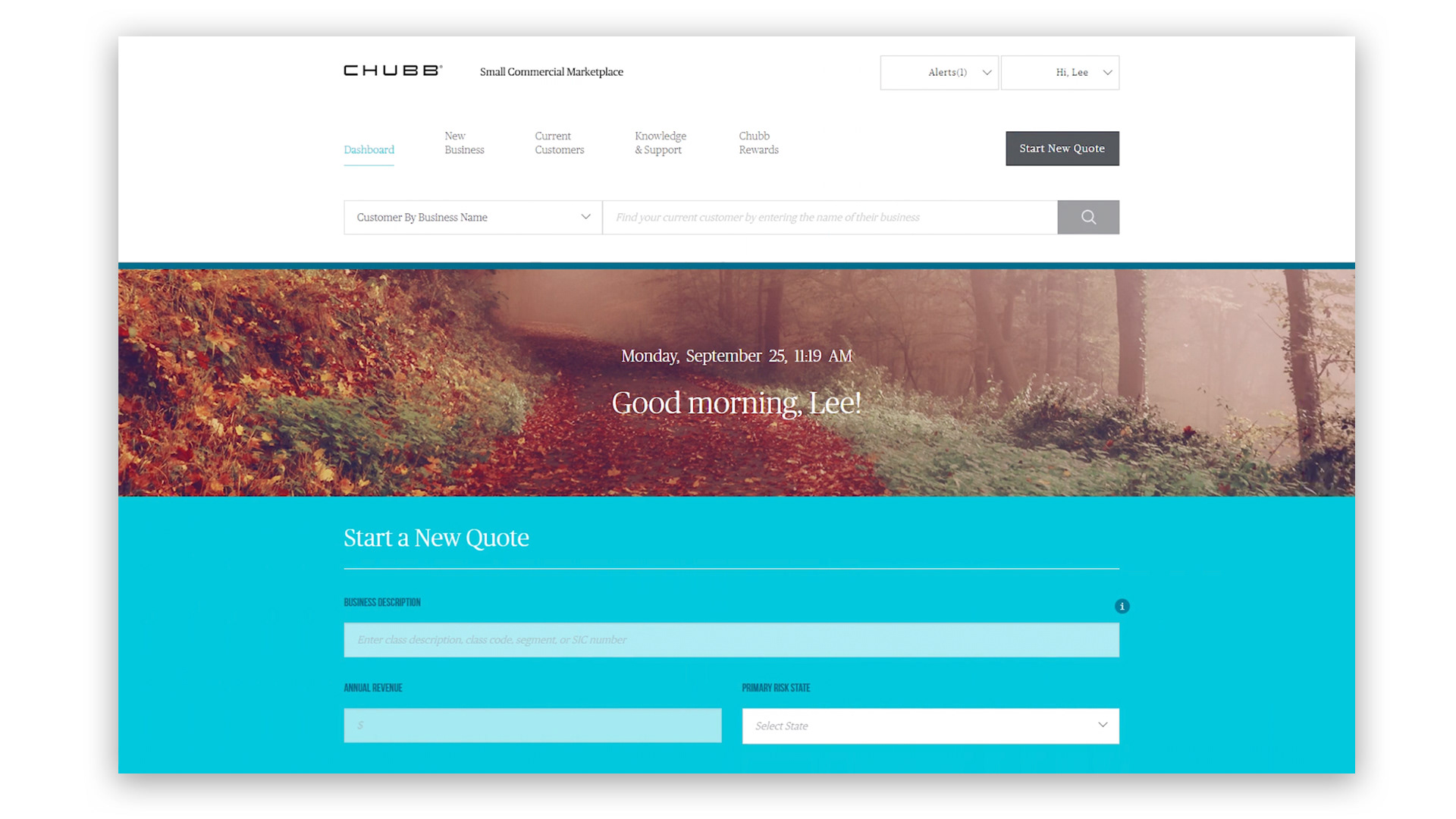 Promotional Content and Training Support Videos:
As a parallel and integrated track to the development and deployment of the sales platform, a continuous delivery pipeline of internal- and external-facing communication and amplification content were produced.  This included B2B explainer videos targeted to independent agents across North America and on-demand user training content (examples below).   ​​​​​​​
This go-to designation for agents is based on ease of use, task speed and product familiarity - and is key to adoption success in the highly competitive small business insurance marketplace. 
​​​​​​​