Virtual Reality | Interview-Based Soft Skills Training
Role: Executive Creative Director | Director of Design & XR Experience Strategy | Video Production SME | Scriptwriter and Live-Action Director 
Concept:

  This immersive training experience enhances skill development for social service caseworkers who administer public assistance benefits.  It focuses on customer service and interviewing skills – specifically, acting with empathy and asking open-ended and probing questions that encourage customers to provide complete narrative responses.  
In the experience, users (you) practice questioning techniques and exploratory dialog with a family applying for supplementary food and cash assistance.  Your job as the caseworker and eligibility interviewer is to engage the family in such a way that you understand their financial and non-financial circumstances as accurately as possible.​​​​​​
Solution:

  The fictional applicant family was created with actors in a scripted scenario.  Your conversation with them is facilitated in VR with dynamic narrative (you choose the path), immersive 360° storytelling, and natural language processing.  The experience requires only a wireless Oculus® VR headset, a downloadable app, and a WiFi connection.  It offers a new route to build advanced caseworker skills, as well as to foster greater understanding among policymakers.
Efficacy of VR Training:

  Experiential training - or training by doing - increases learning quality and improves retention by up to 75% (based on research across multiple industries and use cases).  Additionally, we've seen a 40% reduction in caseworker training time, a reported 70% improvement in employee performance, and a 75% decrease in training resource costs over traditional methods.  In addition to these significant numbers, we've entirely removed the need for training-related travel and associated expenses for welfare and human services agencies.
Virtual Training / VR Platform:

   The video below provides a quick overview of the experience and production process, and explains how the underpinning interactive technology can be repurposed for training in areas like customer service, law enforcement and human resources. 
Virtual reality allows novice caseworkers to get hands-on interview experience on day one - and that can change everything they learn going forward.
Development & Production 
took approximately six months to complete and included multiple phases from ideation to delivery: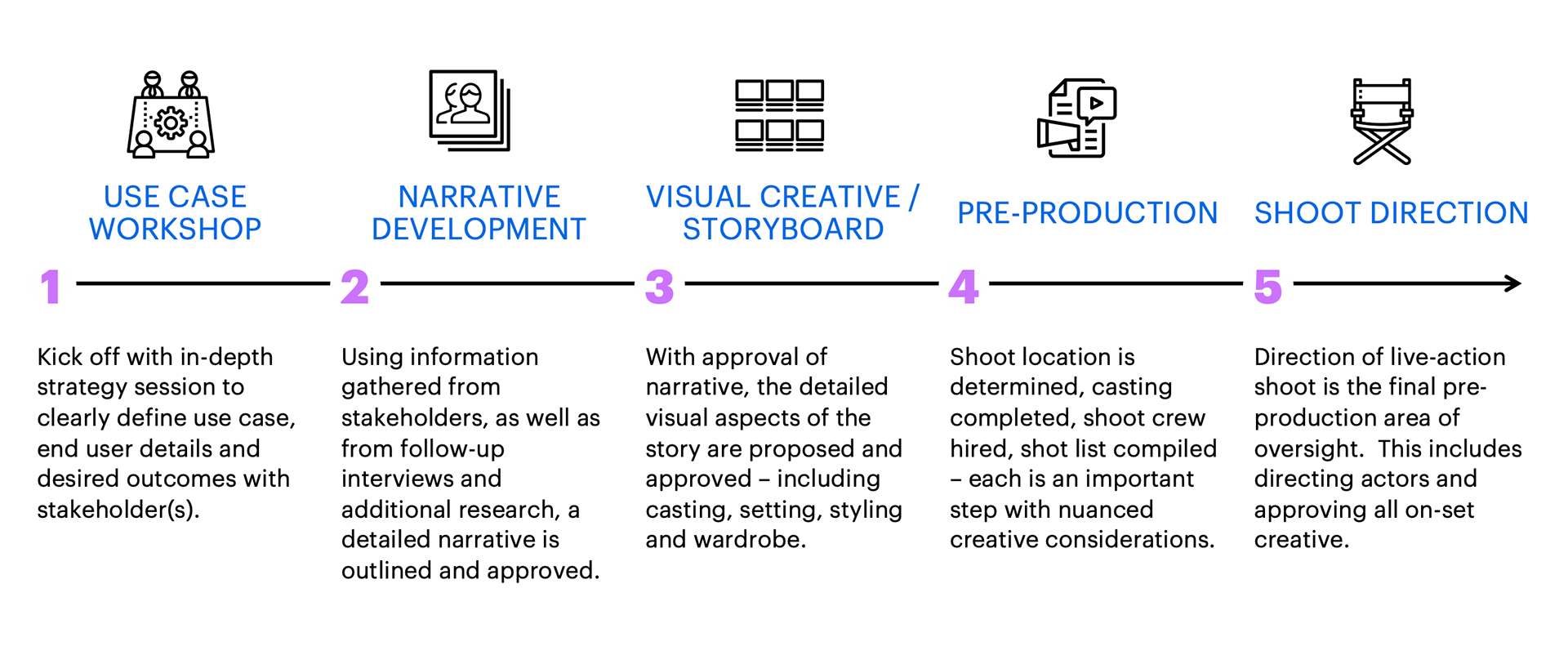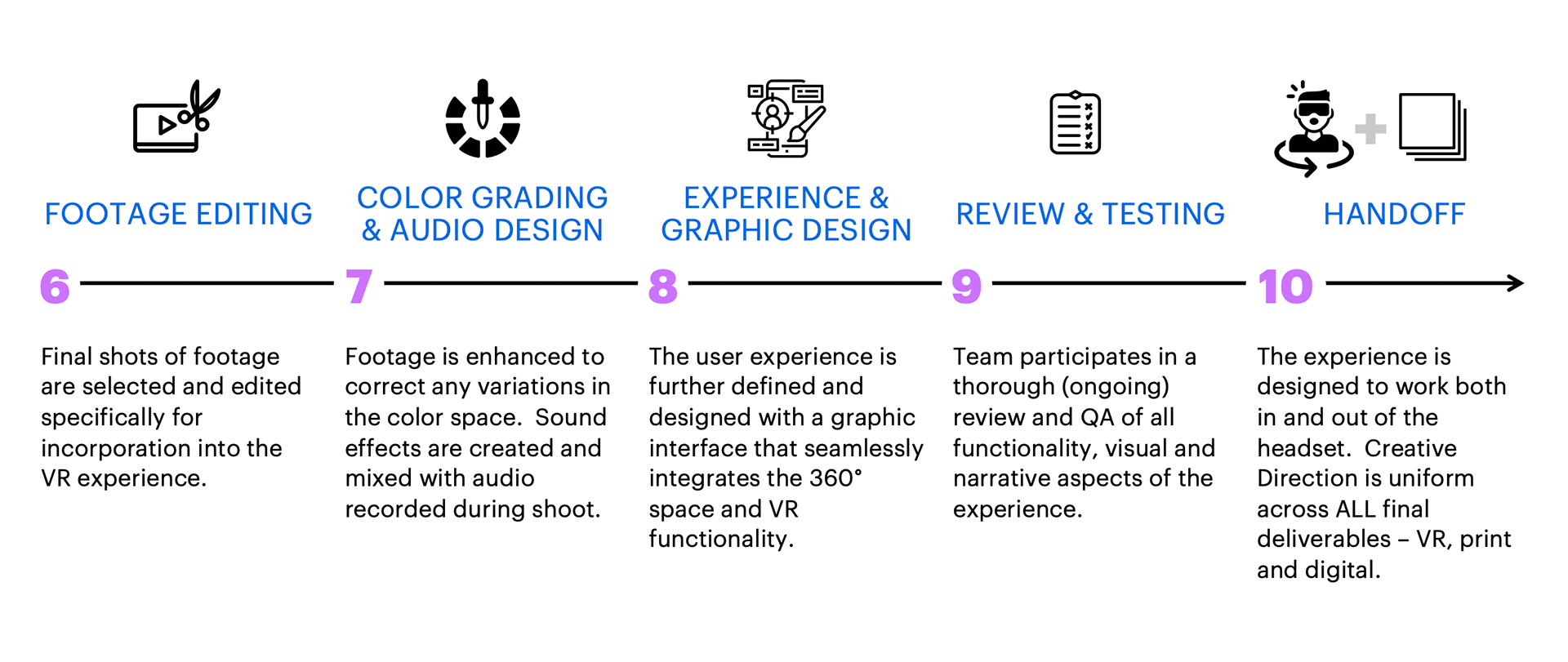 Field Research:

  I facilitated multiple creative work sessions and in-person interviews with Public Services Consultants and Food Assistance Eligibility Specialists from San Diego, Los Angeles and Sacramento during their customer intake and eligibility determination process.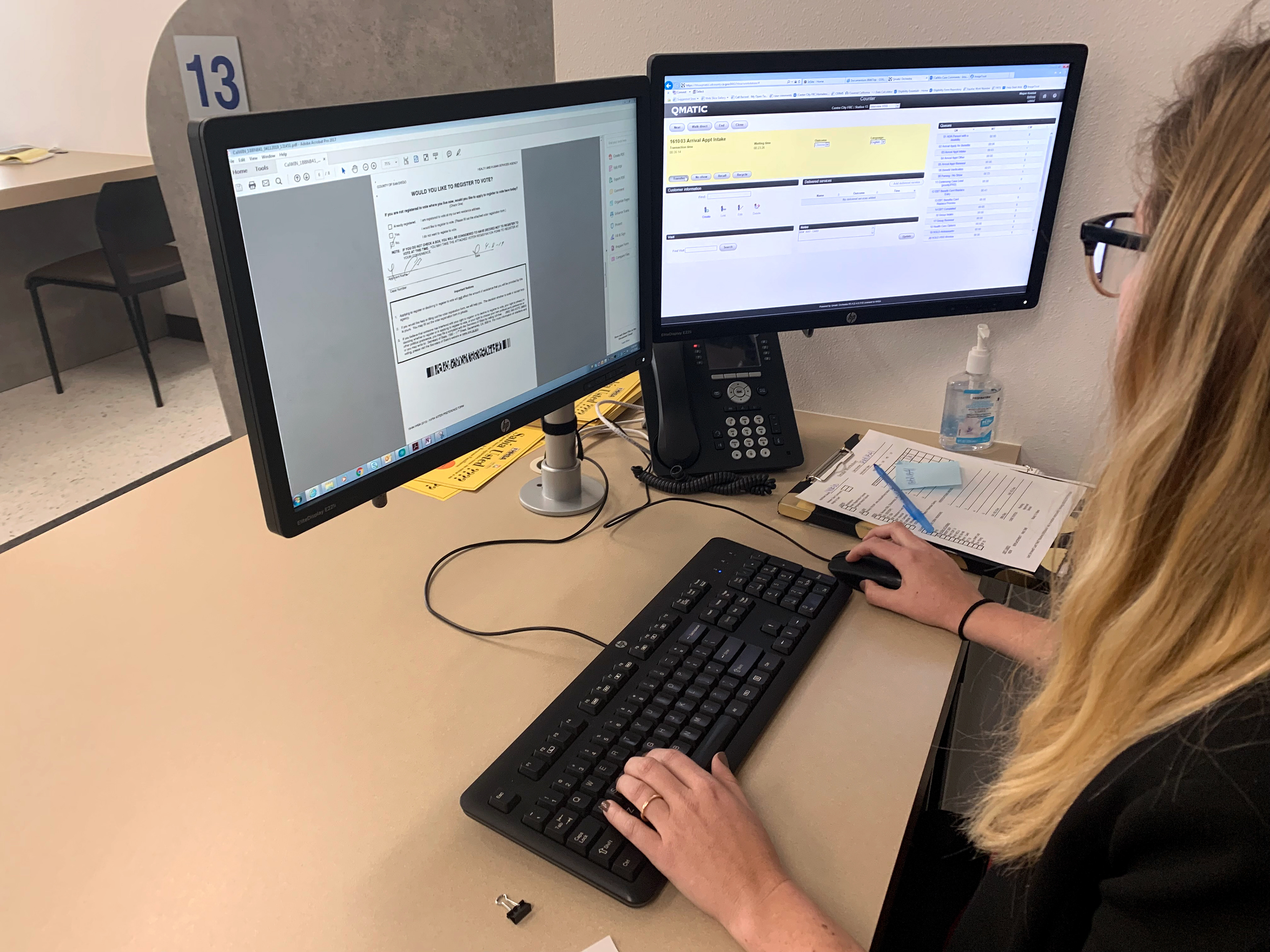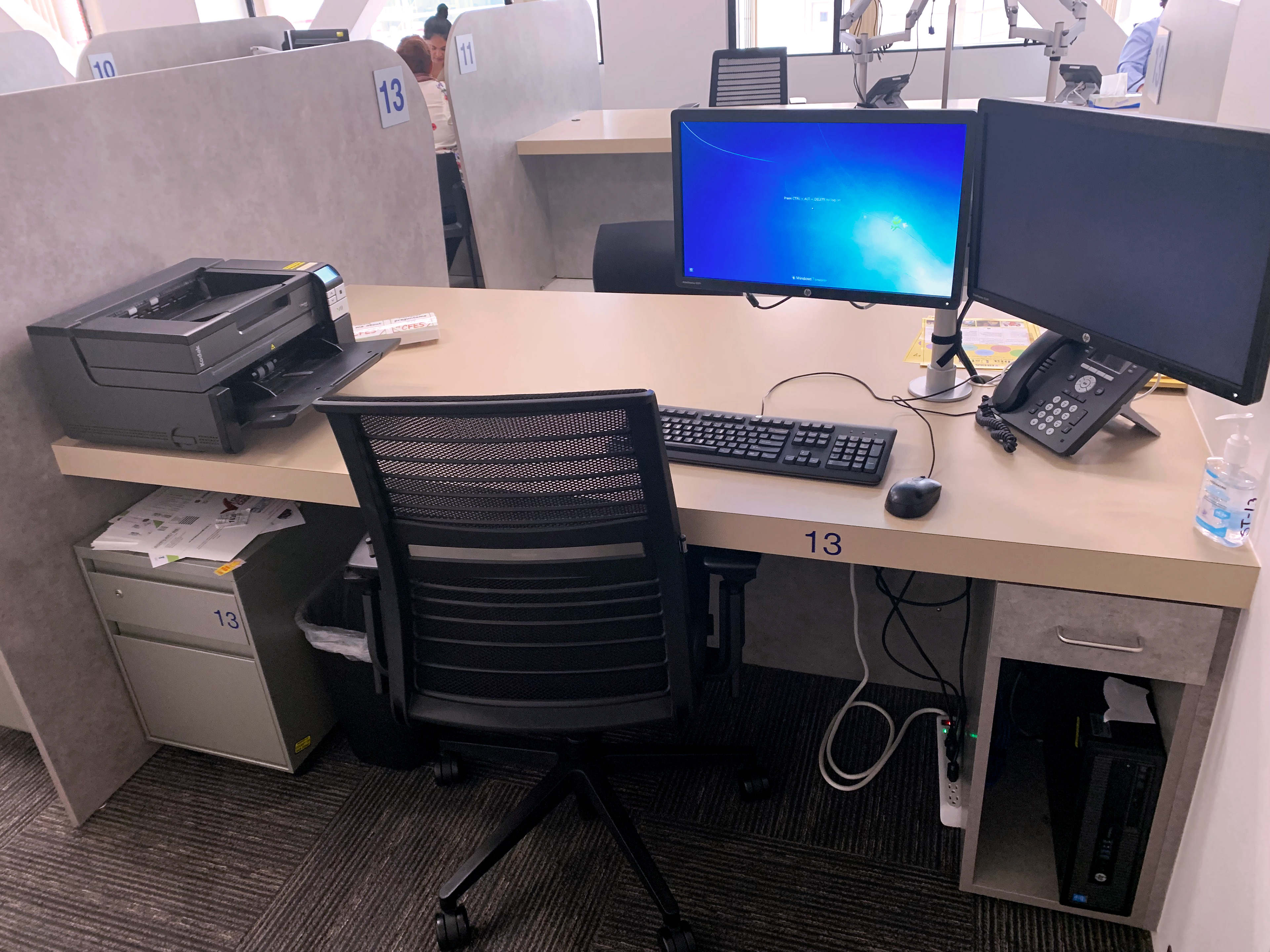 What I Learned:

  The target user for this experience is within six months of being hired as a public assistance caseworker.  Though they've shadowed supervisors during training, they have not yet completed their first unassisted interview. 
The customers (individual and family applicants) range in age, financial circumstance, and personal experience with the application process.  Some have received supplementary assistance for months or years and others are applying for their first time.  Each customer has a unique story, often complicated with illness, addiction and compounded needs.
Experience Backstory:

  The underlying family narrative is highly-detailed and depicts a realistic financial distress situation. 
This video provides a general outline of their circumstances, and includes context of their time at the intake center leading up to the interview.
Because virtual reality relies on the user's suspension of disbelief and enthusiastic participation, story credibility is critical.
"I feel like I've interviewed the real Patricia at least a hundred times.  The characters you've created here are very real to me - it's so close to what our customers are going through". 
- Stakeholder Interview 
​​​​​​​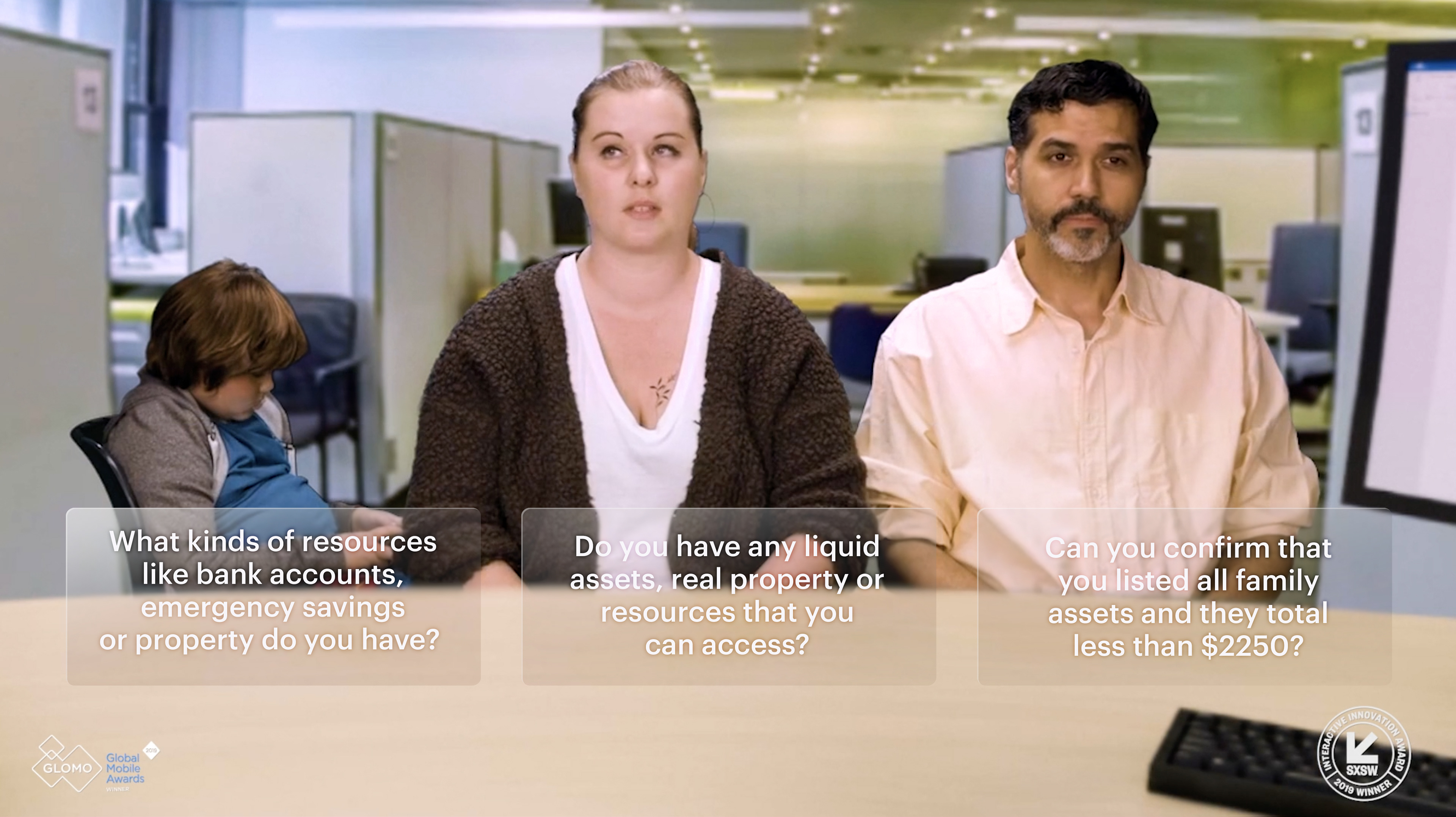 Barrier-Free Design:

  Immersive experiences are most intuitive when the interface is as true to real life as technically possible.  
To that end, natural voice recognition allows users to speak directly to the characters and minimal gaze-activated  question prompts follow an established CalFresh eligibility interview format and are the only visible graphics in view.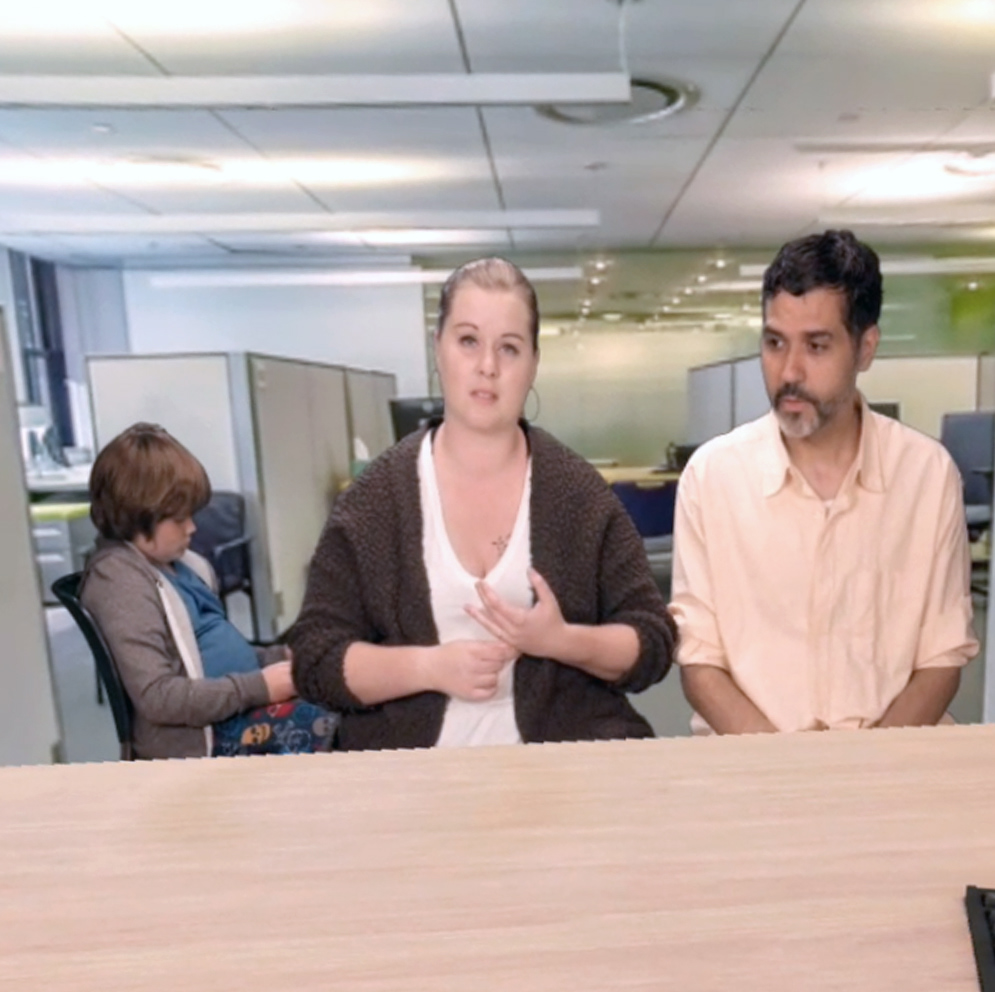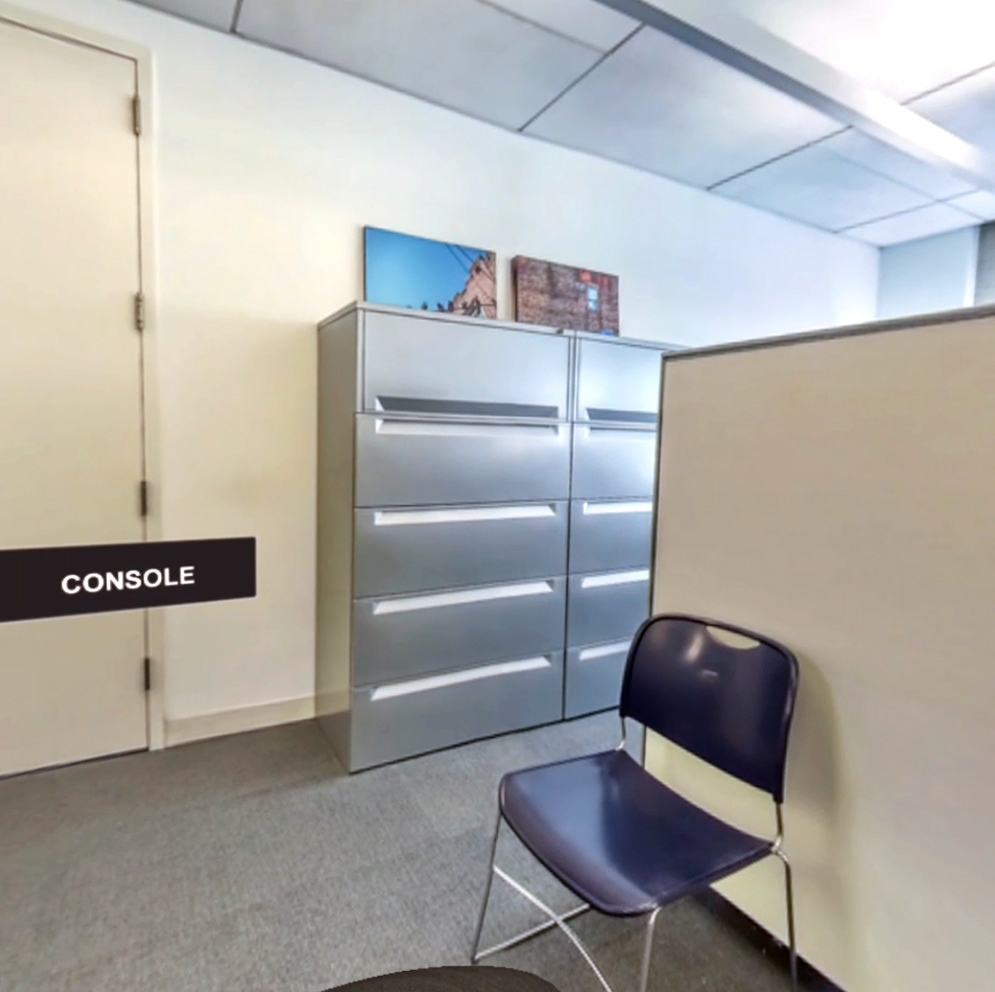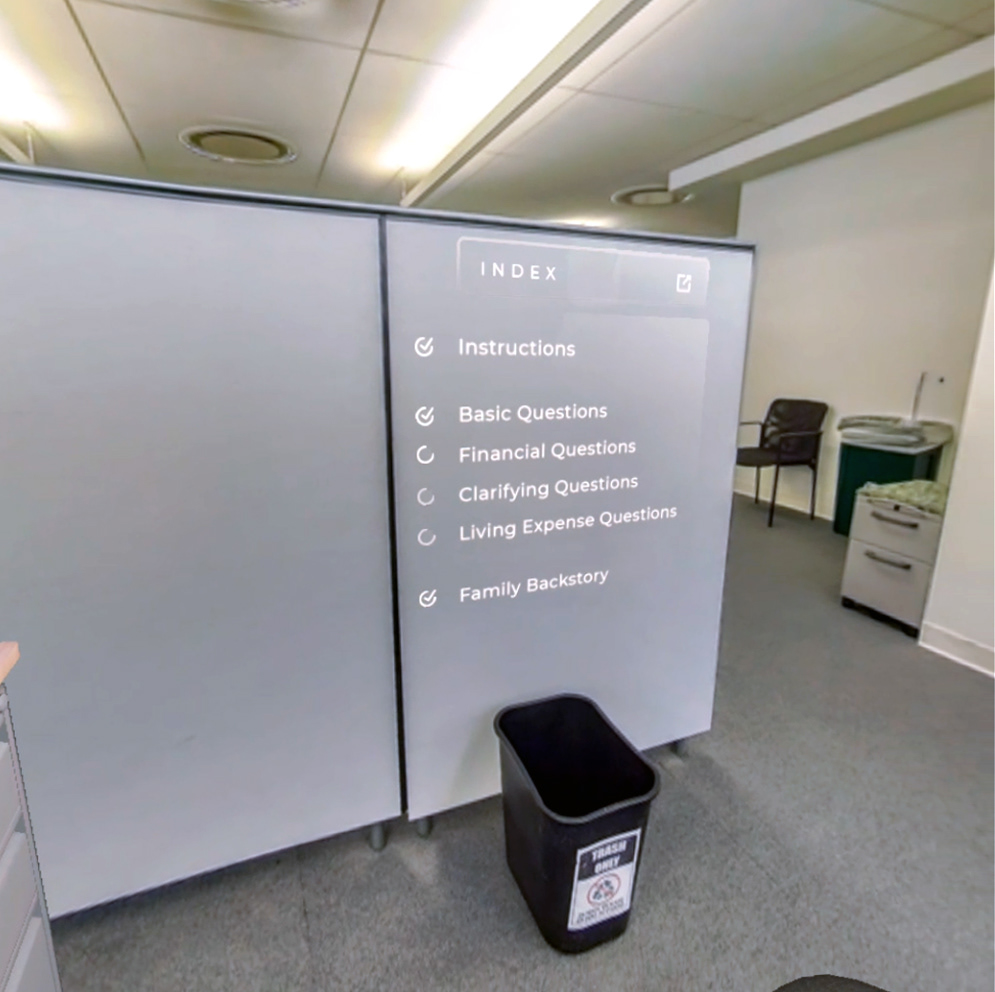 360° Office:

The interview takes place in a realistic office environment fashioned after the CalFresh intake center in San Diego.  
Noise distractions, including elevators opening and closing, interviews in adjacent cubicles, loudspeaker announcements, etc. are typical in most intake centers. The experience realistically replicates this throughout the interview.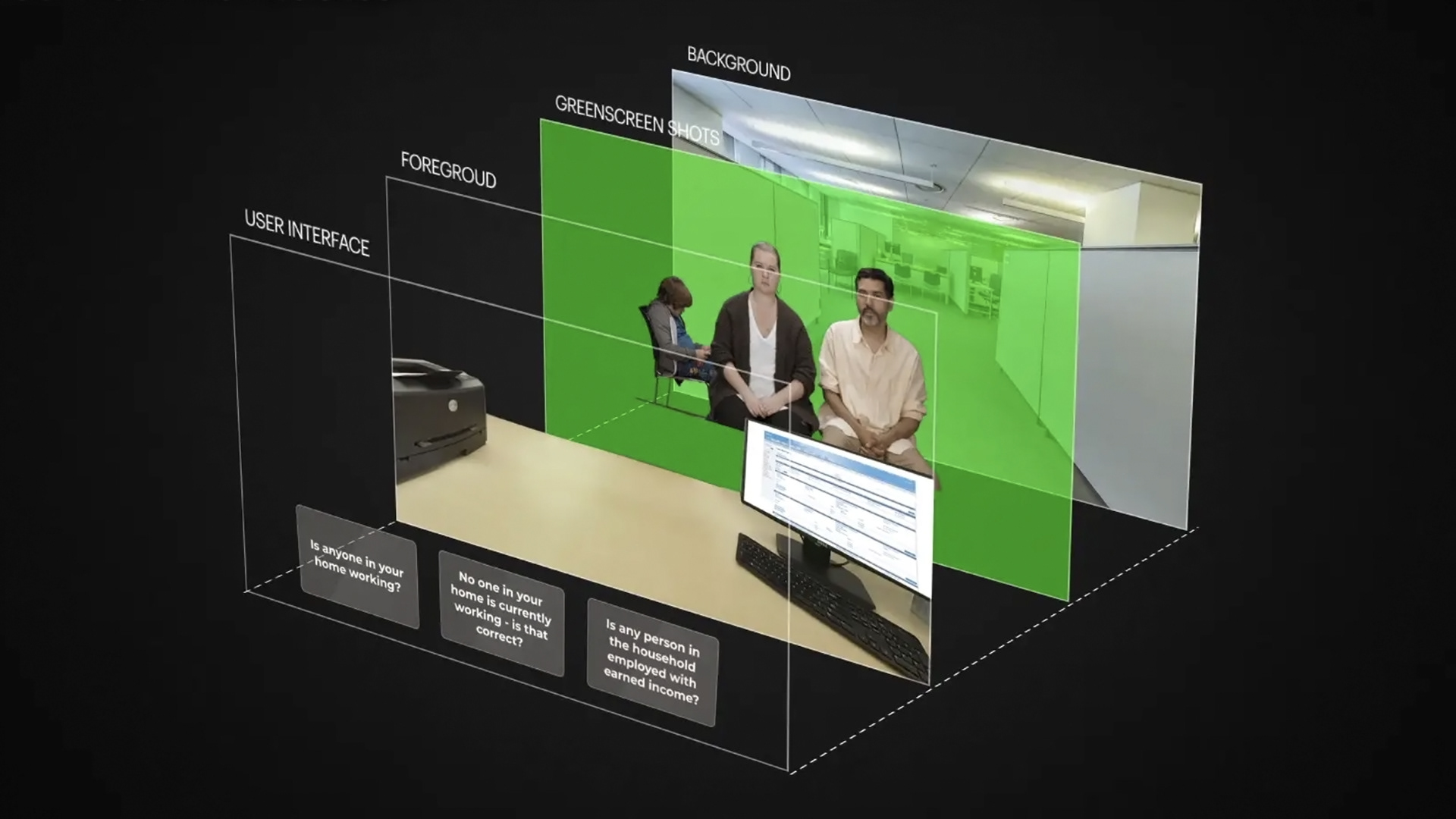 Post-Production:

The live-action footage of the actors was shot on a chroma key sound stage.  It was then edited and color-corrected before being composited into the 360° office background. 3D/CGI-generated desk & foreground elements, and graphic user interface prompts were added last.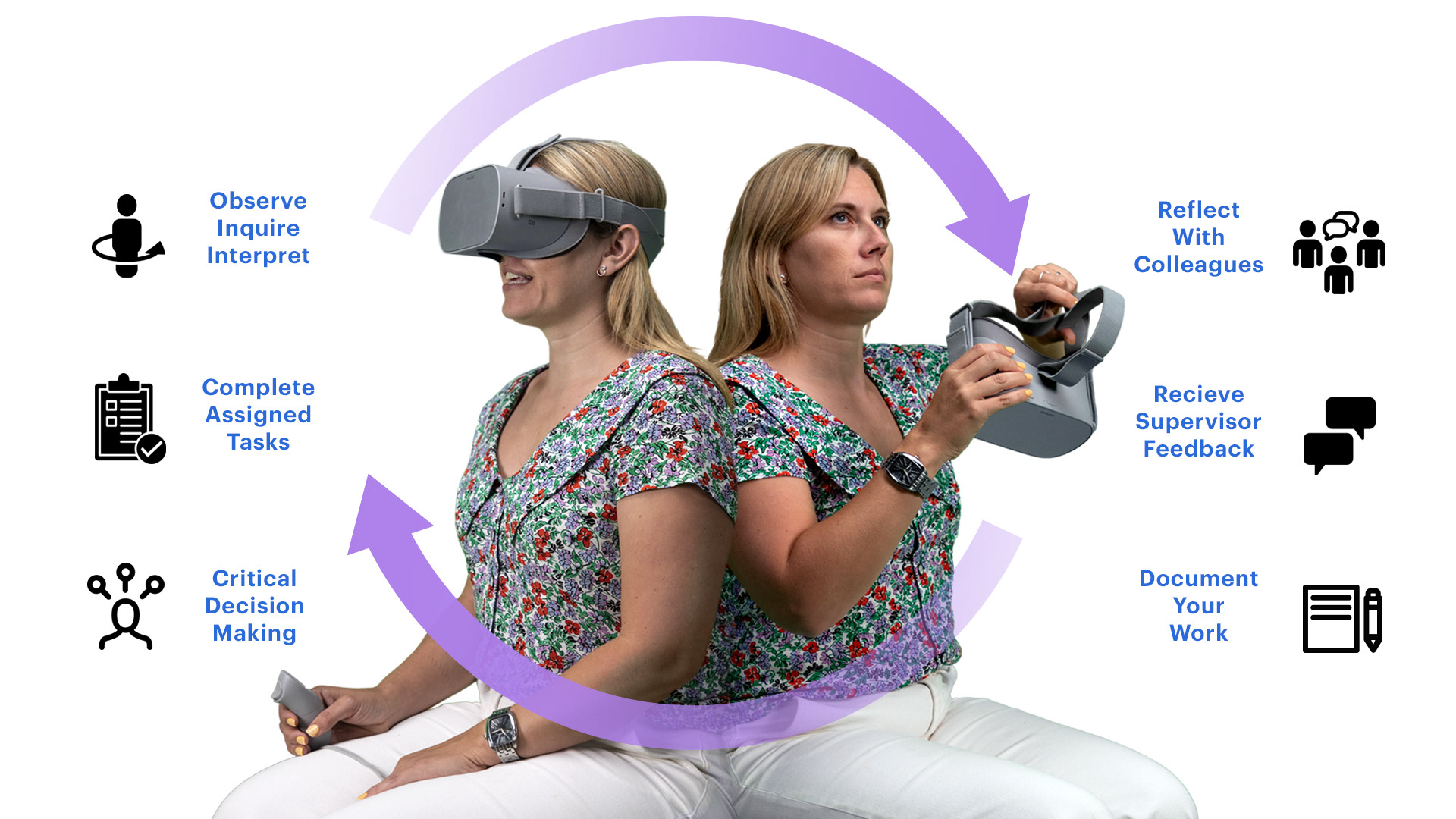 Complete training:

  The experience provides a learning opportunity that is both experiential and reflective.  It starts in virtual reality where users are immersed in a real-world scenario and can practice making tough decisions. 
This is followed by a carefully curated seminar in which groups of users work together to unpack their thinking and increase their ability to inquire, observe and interpret human behavior.
Recognition for This Work:

  The experience was awarded a GLOMO® | Global Mobile Award for Best Innovation in Mobile VR at the 2019 Mobile World Congress (MWC) in Barcelona - and a 2019 South by Southwest (SXSW®) Interactive Innovations Awards Finalist (VR, AR & MR).  
Personal Note:

  The story of Patricia, Carlos, and Theo is fictional, but it reflects the circumstances of many families who require food assistance every day across the U.S.  I developed the detailed backstory and script with the thoughtful input of the County of San Diego Health & Human Services | Eligibility Operations team.  
The training is designed to work in all states and can be tailored to accommodate regional & county-level requirements.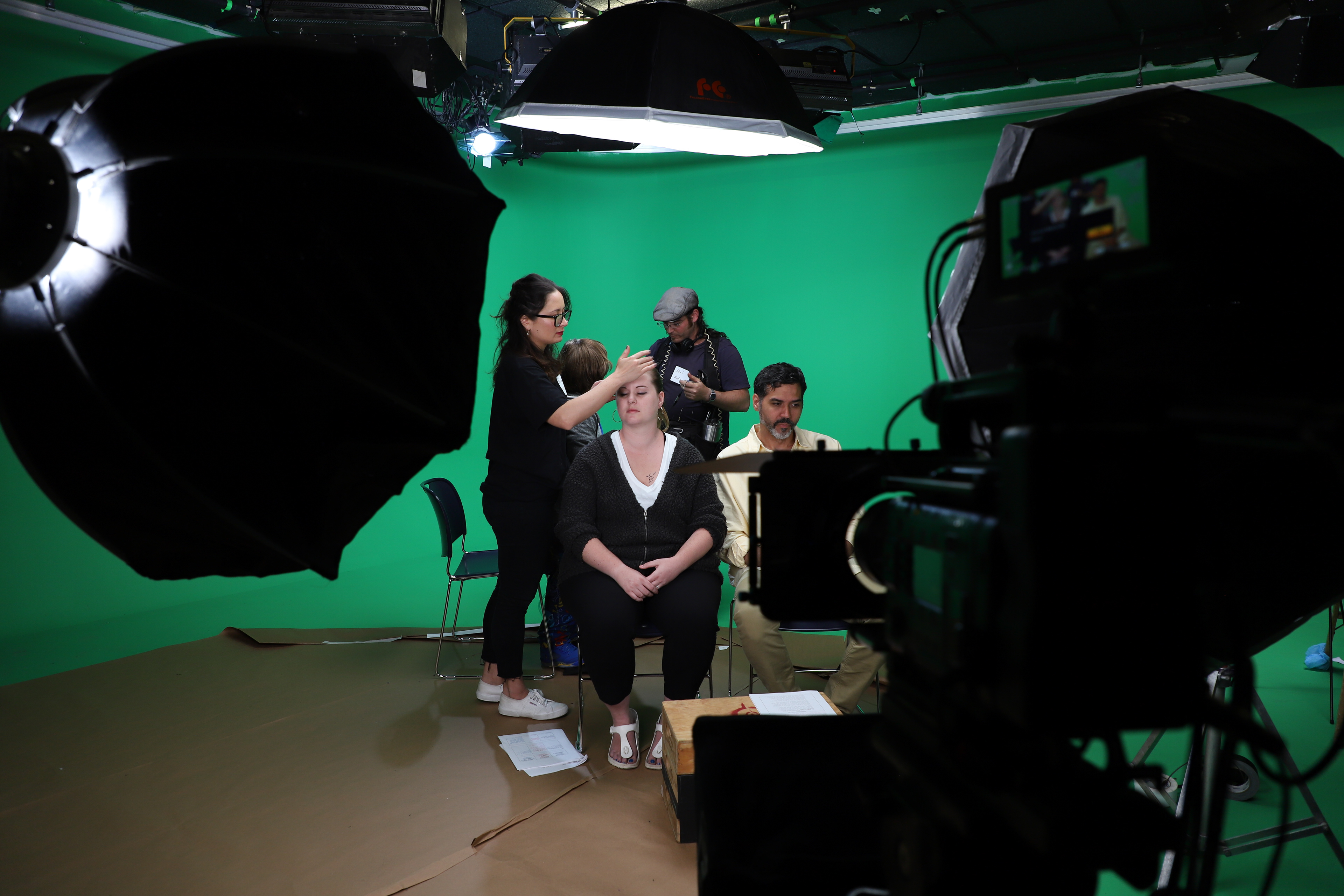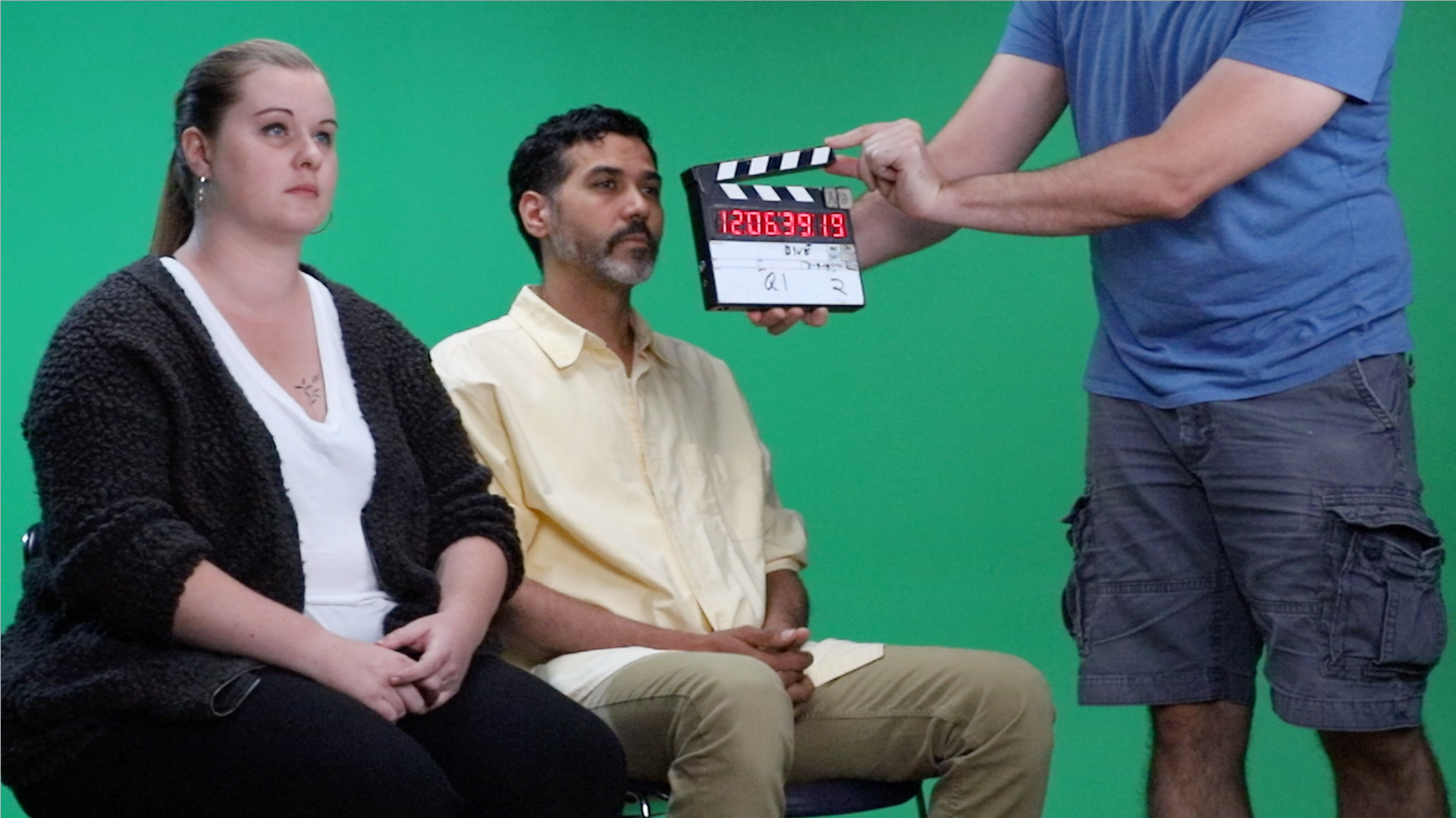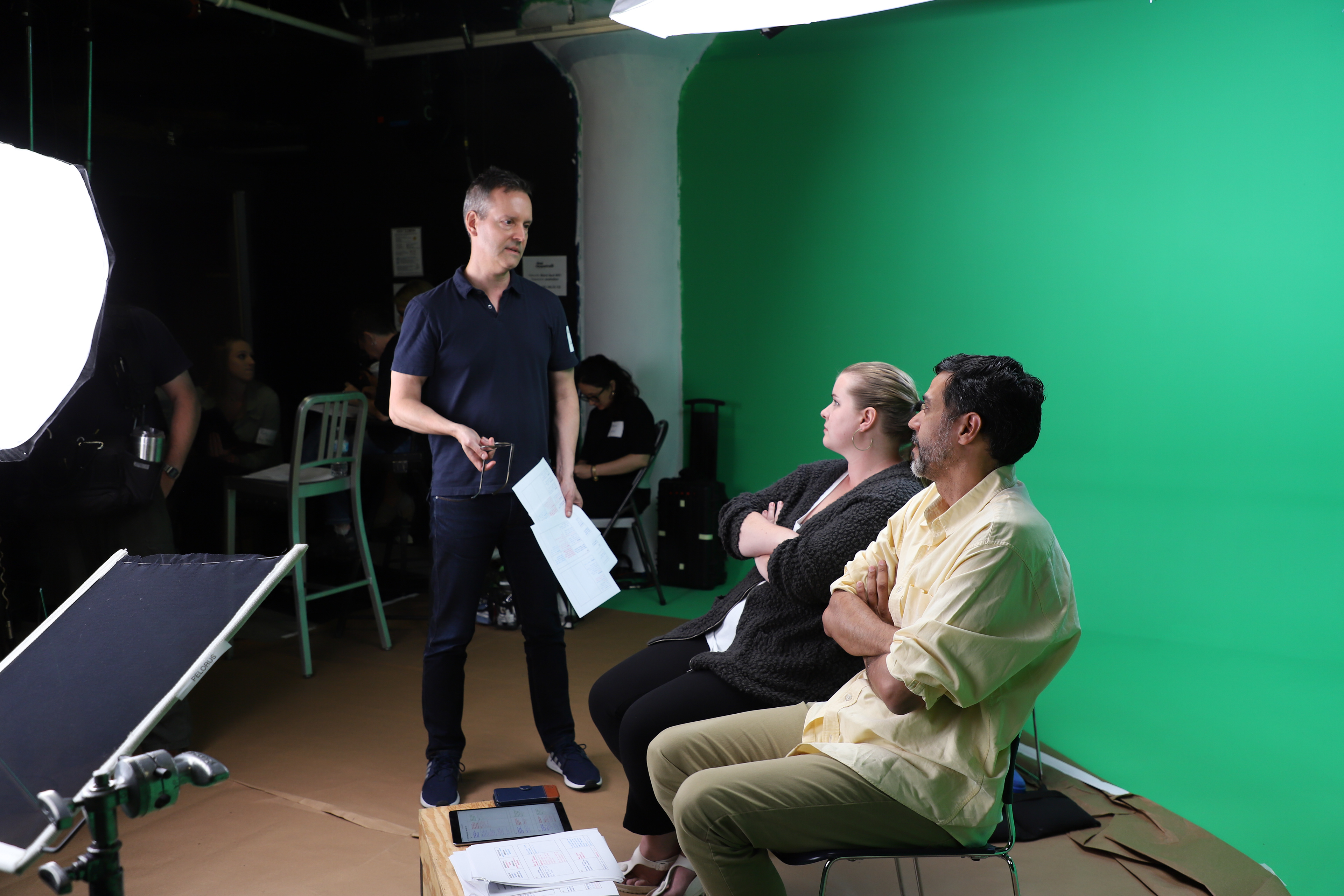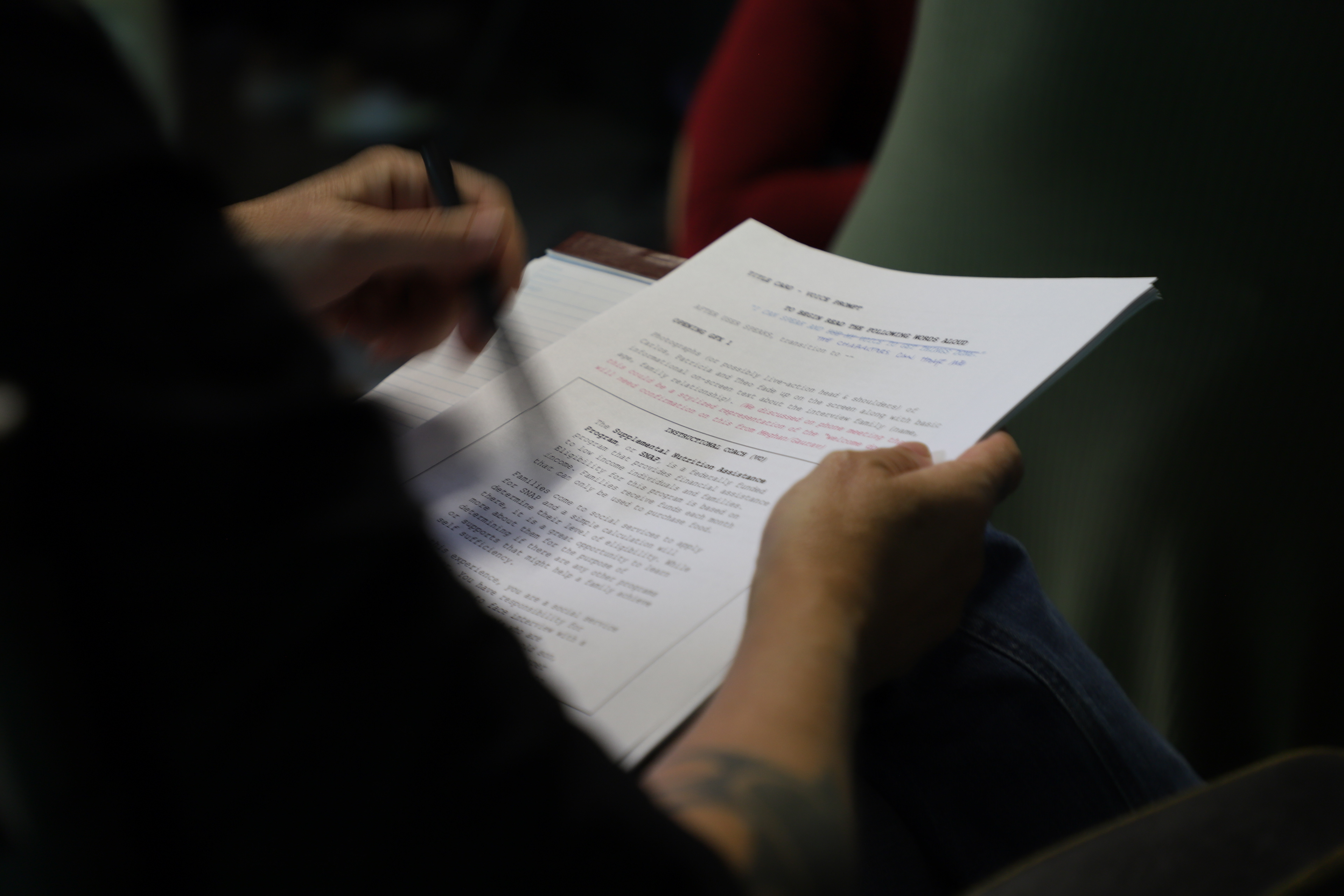 I directed the live-action shoot in New York, capturing over 110 individual segments that fit seamlessly into the experience regardless of individual user question paths.